For people who want to get their feet wet in the drop shipping game, SaleHoo is a great place to start. Unlike most drop shipping companies, SaleHoo doesn't directly offer products to its members. Instead, SaleHoo acts as an intermediary, connecting its members to a directory of over 8,000 verified suppliers and drop shippers from more than 100 countries. Though that set-up has a couple downsides, overall, it connects you to a huge inventory of goods. SaleHoo pairs that network with a host of great tools to help you get your business off the ground. Offering fantastic value and a generous 60-day refund guarantee, SaleHoo is a great choice.
SaleHoo Pricing Overview
At a competitively low cost of only $67 per year, SaleHoo has one of the most affordable memberships among drop ship solution providers. Beyond that, as an extra reassurance, SaleHoo guarantees a 60-day no-questions-asked full refund policy if you're dissatisfied with its services.
SaleHoo lets you sell goods on lots of online marketplaces, including the heavyweights: eBay, Amazon, Etsy, and more. But if you'd like to set up your own independent storefront or website, SaleHoo's got your back, too. You have three different plans to choose from, ranging from $27 to $97 per month with varying lists of features.
SaleHoo bills you through the ClickBank payment processor, which accepts PayPal and all major credit cards. At this time, you can only get annual billing cycles, and your membership gets renewed automatically.
SaleHoo 2.0
SaleHoo recently updated their service that brought about several changes that will help you use their platform even more smoothly. First off, the dashboard has been reconstructed to show everything you need in one place. You have one-click access to your favorite suppliers, check your saved product ideas, communicate with suppliers, and monitor your training progress.
The directory has also been buffed- filters work instantly without having to refresh the page, supplier websites can be previewed, search filters are retained from the previous session, and there is a section for top and trending suppliers which is updated weekly.
The search bar can now make suggestions based on your keystrokes and includes top brands and suppliers on the list. You can search for both suppliers and items, and a spell check is instantly done on your keywords so results are relevant.
One of the most convenient changes they made is real-time chat sessions with suppliers. You can chat with multiple suppliers at the same time, initiate a live chat session from any page, and access your chat history anytime. No need to fill out forms or wait for emails- suppliers can reply to you in an instant.
You can compare 4 products at a time to help you select one that where you can profit the most. You can also see how much identical products have been sold for, and check for the latest sales data which is refreshed on a daily basis.
As for product trends, SaleHoo lets real people curate the list, so there is actual research going on behind the scenes of the section. You can keep tabs on upcoming trending niches, with new trends added every week.
SaleHoo Wholesale Directory
SaleHoo uses a different business model than most drop shipping companies. Here, SaleHoo links you to thousands of suppliers from 100+ territories, amounting to more than 11.6 million products, and gives you the tools you need to sell your chosen products at a profit.
That huge wholesale directory is one of SaleHoo's biggest perks. You can easily search SaleHoo's supplier lists and categories for possible products to sell, filtering for important considerations like if they are wholesalers only, minimum order required, international shipping, and if they require a tax ID.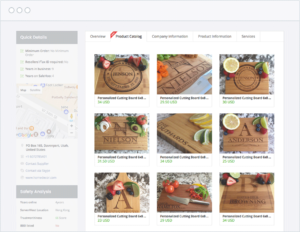 SaleHoo taps into a diverse list of catalogs, with supplier offering products from tech giants like Canon, HP, and Samsung to clothing leaders like Levi's, Gap, and beyond. This means you can count on finding whatever product you're looking to sell, and you're guaranteed to make a profit because SaleHoo gives the product to you at a low wholesale price. With SaleHoo's rigorous screening and verification process for its suppliers, the risk of linking up and losing your money to a bogus business is drastically reduced, too.
Market Research Labs
SaleHoo membership also gives you access to the company's Market Research Labs. This service crunches the numbers for you and recommends the products that will rake in the most profits. Every week, SaleHoo staff will give you a list of products that have a potential for high sales and low competition. You can filter by product category, view important data like average sale prices for specific models, check seasonal trends, and so on.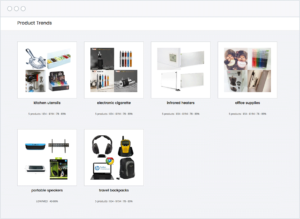 If you'd like more personalized recommendations, you can also contact the SaleHoo staff directly for more detailed guidance.
SaleHoo Stores
If you'd like to have your own website or storefront, SaleHoo makes it easy for you through its SaleHoo Stores service. You'll get the basic resources and tools you'll need to run your own e-commerce website, plus free setup and the freedom to use your own custom domain. You'll also get a dedicated phone and email support (through phone lines are only open during weekday office hours), a free business logo, and $100 worth of Google Adwords credits to get you off to a good start.
Bear in mind that this service isn't as powerful or complex as true e-commerce website services, so if you'd like a storefront where you can sell your own products and that packs functionality beyond the very basics, consider signing up for a dedicated service like Shopify instead.
SaleHoo Stores Pricing Plans:
| Feature | Basic | Standard | Premium |
| --- | --- | --- | --- |
| Monthly Price | $27 | $47 | $97 |
| Products in Inventory | 200 | 5000 | Unlimited |
| Bandwidth | 200 MB | 400 MB | Unlimited |
| Image Storage | 600 | Unlimited | Unlimited |
| Email Accounts | 1 | 3 | 20 |
| Wholesale Supplier Directory | No | Yes | Yes |
| Market Research Lab | No | Yes | Yes |
| Coupons and Discounts | No | Yes | Yes |
| Digital Product Processing | No | No | Yes |
| Stores Traffic Training | No | No | Yes |
SaleHoo Customer Support
SaleHoo provides 24/7 customer support through email and Twitter. You can call for more immediate support, but phone lines are only active from Monday to Friday. SaleHoo also maintains a very active community forum, where you can count on a speedy and comprehensive answer to your issues or concerns.
There is also a small chat box at the lower right corner of Salehoo's page where you can instantly talk to one of their support team. Unfortunately, there are times when their representatives are offline, but if you do catch them, they should be able to answer your questions on the spot.
SaleHoo also offers useful tutorials and guide materials through its Free Online Seller Training portal. Step-by-step guides, audio and video tutorials, and more teach you key processes and concepts: from beginner guides to eBay and Amazon selling to securing vital business documentation, and more.
SaleHoo Review 2018 – Conclusion
Compared to other drop shipping companies, SaleHoo's business model is a bit unconventional. That said, the benefits of its vast supplier directory are clear. Add to that the company's dedicated support team, active and helpful community of members and PowerSellers, and a wealth of free skill-building resources, and you've got all the ingredients for a successful drop shipping business. Not to mention that they gave their platform a full update that can really give you an edge in your venture. At only $67 per year and with a generous refund policy to boot, SaleHoo is one of the most affordable and value-for-money drop shipping solutions you can get. Start with SaleHoo here!